Take Your Child to the Library Day!
Saturday, February 4th 10am-2pm
Drop in and sign up for a library card, do a craft, play a game and listen to a story. Win a door prize! We'll also have drinks and refreshments. All family members welcome. No sign up necessary.
Journey to Ethiopia with Hampton Falls Resident, Scott Faiia
Wednesday, February 8th at 6:30pm (Snow Date February 15) In person at the Library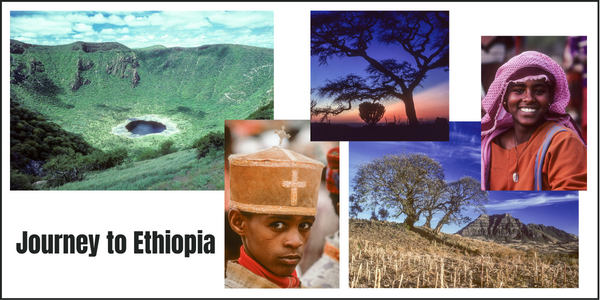 Scott joined the Peace Corps in 1973. Since then he has lived and worked in Asia for twenty-six years, in East Africa for nine years, in Haiti for three years, and in Egypt for three years. His serious interest in photography developed as a means to interact with the diverse people and cultures he encountered in his work. In many ways this interaction, and the possibility of capturing through photography the hope and beauty he encountered, was a counterbalance to the grim realities he grappled with in his relief and development work. His main photographic interests are candid portraiture and documenting the daily life of people. He loves sharing his images and the stories behind them.
Scott will introduce you to Ethiopia's natural beauty and fascinating culture. He will take you on a photographic journey through his images from Ethiopia and share his experiences living there in the 1980s. This was a time when Ethiopia faced it's most devastating famine, when the country's people demonstrated that they could face their challenges with dignity and grace. This will be a thought-provoking and inspiring look into a culturally and geographically rich and diverse country.

Free and open to the public. Sign up for reminders and cancelation information.
The NOT SO Young Adult Book Club
Saturday, February 11th at 10:30 am
Uprooted
by Naomi Novik
February 11th at 10:30 am
In person at the Library
Starting in February, we invite all of our patrons who have outgrown the label "Young Adult" but will never outgrow YA books to join the Young (at Heart) Book Club (Not-So-Young-Adult Book Club? We're still working on the name). Our first meeting will take place on Saturday, February 11 at 10:30 AM. The group's first selection is Naomi Novik's Uprooted, a twisty take on the classic Russian Baba Yaga fairy tale.
Copies of the book are available at the Library. We welcome new members. If you would like to receive email reminders and supplementary materials, click the link below to join our email list.
Home School Meetup
Fridays from 2-4pm
Stop in to: talk and collaborate on art; play chess; work on a project; or work on a puzzle. This is an undefined program meant to encourage collaboration and socialization.
Winter Reading Challenge
January and February Children and Adults Reading Challenge!
Kids and Adults! Can't wait for summer reading? Join us for our Winter Reading Challenge all of January and February. Read a book to "float" your inner tube down the paper river for a chance to win a gift certificate to float the Saco River this summer, or win movie tickets! Come into the library starting December 30th to pick up your game sheet. (All reading counts, from fiction to non-fiction, picture books to novels, magazines to graphic novels, eBooks, and audiobooks.) All ages are welcome to participate. Prizes furnished by The Friends of the Hampton Falls Free Library and Vision Max Cinema. Completed sheets must be returned to the library by noon on Friday, March 3, 2023.
Adult Book Club
February 22 at 6:30pm
The Personal Librarian by

Marie Benedict and Victoria Christopher Murray is t

he remarkable story of J. P. Morgan's personal librarian, Belle da Costa Greene, the Black American woman who was forced to hide her true identity and pass as white to leave a lasting legacy that enriched our nation.





Copies of the books are available at the Library. We welcome new members.

Want to know what we are reading next? Sign up to receive book club notices.
Coffee with a Cop
Friday, March 10th at 10 am- In Person at the Library
Stop by the library for coffee, doughnuts, and conversation with an officer from the Hampton Falls Police Department. No sign up necessary.
Fierce Females: Women in Art with Art Historian, Jane Oneail
Saturday, March 18th at 6:30pm- In person at the Library (in the case of inclement weather, on Zoom)
Women have long been the subject of art, often depicted as nothing more than objects of desire. How do images of women change when women become the creators? This program examines the history of women in art in brief and then explores the lives, careers and works of several major female artists from the Renaissance to the twentieth century. Artemisia Gentileschi, Mary Cassatt, and Frida Kahlo are some of the artists discussed in this program.
Jane Oneail is the founder of Culturally Curious, an arts education consulting firm specializing in art appreciation programs. She curates and delivers programs throughout New England and beyond.
**Sponsored by New Hampshire Humanities and the Friends of the Hampton Falls Free Library.
Free and open to the public. Please register below to attend.
Join our team!
Part-Time Subsitutes:
The Library needs subs for providing vacation coverage for Library staff. Duties will primarily consist of answering customer queries at the circulation desk, helping customers with computers, shelf reading, and shelving returned materials. Positions available until filled. Qualifications are a high school diploma, basic computer skills, excellent customer service skills and the ability to work well with both adults and children.
Interested candidates: Please send cover letter and resume to: hamptonfalls.library@comcast.net